To date, the market for smart devices for fish search is saturated with a variety of models for any wallet and user requirements. Pick up the echo sounder in accordance with technical specifications will not be difficult, if you spend a little time on this. But in this article we would like to draw your attention to some of the nuances that often escapes the attention of the consumer, or at first glance seem to be not priority when choosing a sounder.
1. Ease of use
The Deeper is the most versatile scanning device for fishing to date. You only need one device for different types of fishing - from shore, boats or kayaks, on ice - Deeper will cope with any conditions. Hence the significant cost savings.




One of the main advantages is its portability - no wires and complications during installation, it easily fits in a pocket and weighs less than 100 g. It is not difficult to throw such a sounder.

Deeper is suitable for fans who go fishing several times a year, as well as for professionals who fish several times a week. For this, different modes of operation are provided: basic (provides a minimum of information) and detailed (with accurate data of indications). Deeper invests a lot of money in studying the needs of fishermen around the world. This allows you to add and optimize the functionality of the echo sounder and, most importantly, applications in the smartphone. Updates to the application with improvements come out once a month.
2. Materials
The unique, patented design of the echosounder was developed by a team of industrial designers from 3 countries, to this day is the reference for echo sounders. It is copied by producers from Russia, China, and America. Deeper is fully developed and manufactured in Lithuania. All products produced in the EU pass strict quality control according to all standards - watertightness, dust protection, cold resistance, heat, wear resistance, etc.

For the manufacture of the Deeper echo sounder hull, ABS plastic granules are used. This plastic has maximum strength and durability. The body is cast in high-precision shapes. This avoids defects and defects at the production stage, and also guarantees tightness and shock resistance against hard surfaces. We also test the properties of the material taking into account the color of its color. Every detail must be flawless.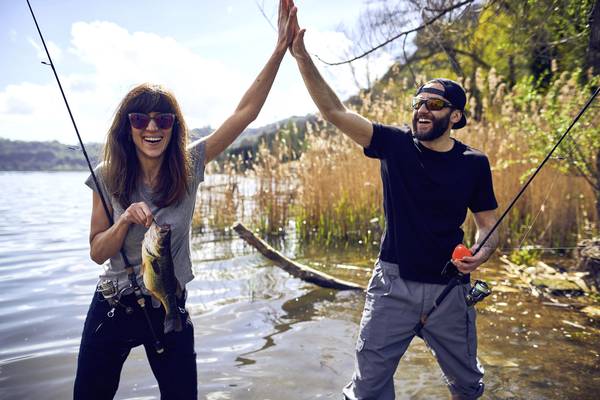 3. Support
Deeper is the only manufacturer in the category of echo sounders, which fully supports its devices even 5 years ago. Battery replacement or troubleshooting is carried out at an authorized service center.

The customer support service is ready to solve any problems in the shortest possible time and answer any questions regarding the operation of the device. This can be done via e-mail, Facebook or by phone.
4. Appendix
A large team of developers is working on the application. Programmers write code for two main platforms - Android and iOS. They make the application intuitive to users of any level. Designers work not only on the beauty of the application, but also on the color rendition, so that in all weather conditions and any lighting the sounder's readings are clearly visible.




All information, all created maps are stored in the cloud and are available for viewing from all user devices. Separately, we should mention our service Lakebook , which stores bathymetric cards of users. There is a possibility beforehand, before fishing, to study the relief of the bottom of the reservoir, where fishing is planned. These data can also be shared with friends who do not have a Deeper sounder.
5. Accessories
Accessories facilitate the use of the echosounder. The range of accessories Deeper consists of a flexible attachment for a boat, a winter cover for a smartphone with waterproof and buoyancy, a holder of a smartphone for fastening to a fishing rod, a colored overlay for night fishing.




And in conclusion - the use of the echo sounder on fishing makes it more modern and convenient. If you wanted to draw your son to fishing, but did not know how - connecting smart devices will help to interest the younger generation.